THE BI-LEVELING MINI-SCISSOR EQUIPPED WITH A KUBOTA DIESEL ENGINE FOR OPERATIONS UP TO 10 METERS IN HEIGHT
The Bibi 1090-BL EVO tracked mini-scissor was developed by Almac's excellent technical staff to carry out operations up to 10 meters in height. Like all the other models in the series, it is equipped with an innovative bi-leveling system and is powered by a Kubota diesel engine.
What advantages does it offer?
Relying on Almac will give you the opportunity to get an efficient tracked lift, able to simplify your work operations, even in special situations. Specifically, by choosing the model proposed here, you will get numerous advantages such as the following ones:
Ability to operate in small spaces
Absolute simplicity and safety of use even in conditions of steep slope or rough terrain
What are the available optional?
Although the machinery in question is proposed with numerous standard technological devices, such as the control console, the Dynamic & Proactive lifting system and the Direction control system, Almac makes available some functional optional for this tracked lift. If you choose the mini-scissor here proposed, in fact, you can request some implementations with the inclusion of element such as:
220 V – 2.2 kW Electric pump
220V – 1000W Electric generator
Anti-marking tracks
Moreover, you can modify the aesthetic characteristics of your machine, selecting the color of your choice.
Crawler Scissor Lift – 1090 BL Evo Dimensions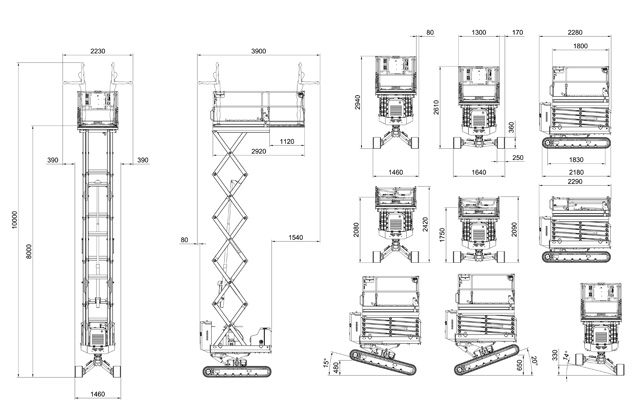 | Model | Bibi 1090-BL EVO |
| --- | --- |
| Max height basket floor | 8m |
| Maximum Working Height | 10m |
| Width | 1.46 ÷ 1.64 m |
| Basket capacity | 300 kg (2 op.) |
| Weight | 2830 kg |
| Power | Petrol and  Lithium ion battery |
Machine Specification
Download the Bibi 1090-BL EVO Hire PDF Working Envelope
Access Hire Lift Specification
Click the link below to download.
Request Site Survey
Call us on 0800 345 7461 or fill in our form to request a site survey
Site Survey
Contact us now at Turner Access Hire for a Site Survey.